Former Secretary of State Henry Kissinger warned senators Thursday that nuclear proliferation from North Korea's weapons program is a greater threat than Pyongyang attacking the United States.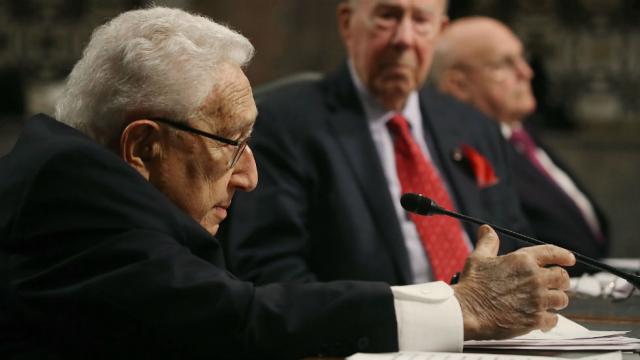 Article de "The Hill" By Rebecca Kheel – 01/25/18 01:22 PM

"My fundamental concern about the nuclear program of Korea is not the threat it poses to the territory of the United States, significant as it is," Kissinger told the Senate Armed Services Committee. "My most immediate concern is the following: If North Korea still possesses a military nuclear capability in some finite time, the impact on the proliferation of nuclear weapons might be fundamental.
"Because if North Korea could keep its capability in the face of opposition by China and the United States, and the disapproval of the rest of the world, other countries will, are bound to feel that this is the way for achieving international prominence and the upper hand in international disputes."
Kissinger was testifying about national security strategy alongside fellow foreign policy heavyweights George Shultz, who was President Ronald Reagan's secretary of State, and Richard Armitage, who was deputy secretary of State in the George W. Bush administration.
North Korea and nuclear weapons were a chief concern of the committee and the witnesses as Pyongyang continues to make progress on its program and the Trump administration prepares to release a Nuclear Posture Review. A leaked draft of the review includes plans to develop "low-yield" nuclear weapons to deter Russia and China.
On proliferation, Kissinger outlined a scenario in which South Korea would not want to be without nuclear weapons if the North has them, which would then lead to Japan following suit.
"And then we're living in a new world in which technically competent countries with adequate command structures are possessing nuclear weapons in an area in which there are considerable national disagreements," he continued.
Kissinger also warned about the consequences of a war with North Korea, particularly the factors that Russia and China would play.
"The temptation to deal with [North Korea] with a pre-emptive attack is strong," he said. "My own thinking, I would be very concerned by a unilateral American war at the borders of China and Russia in which we are not supported by a significant part of the world, or at least of the Asian world."
Shultz said he agrees, adding to "be careful with red lines."
"Empty threats destroy you," he said. "So I would be very careful about drawing redlines that imply that if somebody messes them there's going to be a nuclear war."
Throughout the hearing, Shultz also expressed concern about the Pentagon's upcoming Nuclear Posture Review, set to be released next month.
Shultz said he read an early version of the strategy and that it appeared to him to imply a willingness to use nuclear weapons.
"This notion of using them that is spreading around is deeply disturbing to me," he said. "A nuclear weapon is a nuclear weapon. You use a small one, then you go to a bigger one. I think nuclear weapons are nuclear weapons, and we need to draw the line there."
He also quoted a friend, Bill Swing of the United Religions Initiative, as saying, "When you put your hand on the Bible and swear to be president of the United States, that's the least of it. When you put your hand on the nuclear button, and you can start something that might kill a million people, you're not president anymore, you're God."
"And who are we to say that we're God?" Shultz continued. "These weapons are immoral, as President Reagan said many times, and we need to get rid of them."